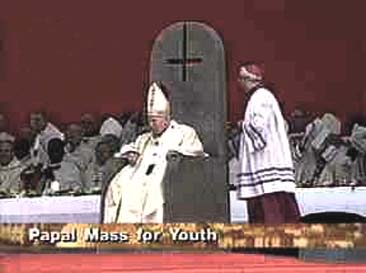 INVERTED CROSS: Represents Satanism and its mockery of Christ From the book "Brave New Schools" by Berit Kjos

The Esoteric Symbol Library states:
"The inverted pentagram is generally a symbol of evil (in much the same way that the inverted cross is)... "

Below is from an article called - The Kingdom of Satan - by Professor J.S. Malan
He says this about the inverted cross.

4.7
Opposition against the cross of Jesus and the Christian church


The kingdom of darkness is fanatically opposed to the church of Jesus Christ and tries to question, discourage, deceive, infiltrate, oppress, forbid, or destroy it in every possible way. Some of the symbols that they use in this campaign are the following:
The inverted cross This cross is not broken, but turned upside down. It indicates the rejection of Jesus Christ and contempt for the gospel of salvation. Inverted symbols are typical of the opposite values pursued by Satanists. People who are sometimes sacrificed to Satan on Black Sabbath are crucified upside down in accordance with this tradition.

FINALLY A SCRIPTURE TO DWELL ON REGARDING THIS MATTER:

2 Corinthians 11:14

And no marvel; for Satan himself is transformed into an angel of light.